Business Branding
Do you need help creating a brand for your new business or product?
Our brand building strategy experts got you.
They'll help you put a name to your beautiful face by:
Defining your business strategy and goals
Researching the best audiences and markets for you
Developing your name, logo, tagline, and messaging style
Brand building can be difficult, but with the right data and years of experience behind us, we can make sure your brand identity really pops.
Customer Acquisition and Prospecting
Sure, your momma loves you, but you have to get your business out in front of a larger audience to really make it. That's where we come in.
We help you attract interest from new markets and customers by:
Researching the best growth opportunities for you
Finding the right customer acquisition channels for your business and industry
Identifying the digital advertising tools that pack the largest punch
You can waste a lot of time trying to acquire customers without the right tools and know-how. We bring our data to your awesome to make it easy.
Lead Conversion
Ready to increase your website conversion rates? Our number nerds live for the rich, meaty data analysis required for conversion projects.
When it comes to lead conversion, our strategy is all about research, innovation, and optimization. We do this by:
Tracking data on your current customers to see what's working and what isn't
Working with our creative team to create engaging and innovative campaigns
Endlessly fine-tuning your lead conversion strategy to make it better every month
Seriously, converting bystanders to fans is the best part of our job.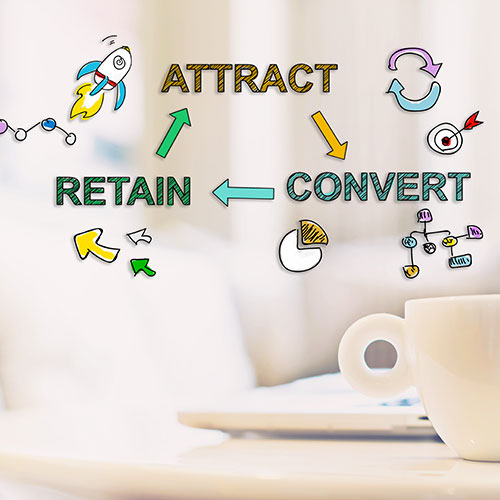 Customer Retention Marketing
Once you get those customers, let's keep 'em. According to recent stats, it's seven times more expensive to sell to a new customer than it is to an existing one. Just thinking about that makes us tired.
That's why we're all about:
Creating an ongoing sense of connection with the customers you already have
Reaching out to your most loyal customers to learn more about what they want
Incentivizing previous customers to come back to the shopping cart
Basically, all those customers who already tell their friends and Yelp and Facebook and their hair dresser about your business? We're gonna make sure they always keep coming back for more.
That's what we do--and we know it works. Learn how our data-driven solutions can help you reach your business goals.